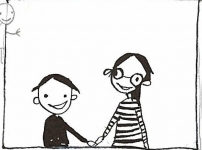 There are more than 500 000 disabled in the Republic of Belarus. May be you don't have such a person in your family, but look around – it can be your friend, co-worker, neighbor or your child's classmate, person standing near you in a line in a grocery store. It is every 20th person in the country. How should you behave with them? How not to offend them with heightened attention and helpfulness or vice versa by ostentatious indifference to the problem?
All the answers are given in the book "Disability etiquette"* adapted and published by the Office for the rights of persons with disabilities. 
This book is for those who want to communicate with persons with disabilities more effective. "Disability etiquette" will help you to overcome barriers rising during the communication with persons who have different kinds of disabilities in different situations: at work, at home, in public transport etc. For example, when the company management and co-workers use disability etiquette their colleagues with disabilities feel more comfortable and work more productive. The same can be said about the company's clients. Using disability etiquette in practice is a wonderful way to let persons with disabilities know that we are glad to communicate with them.
The main rules:
You don't have to feel awkward when dealing with a person who has a disability. This booklet provides some basic tips for you to follow. And if you are ever unsure how to interact with a person who has a disability, just ask!
Offer assistance only if the person appears to need it. A person with a disability will oftentimes communicate when she needs help. And if she does want help, ask how before you act
Always speak directly to the person with a disability, not to his companion, aide or sign language interpreter
The most important thing is – People with disabilities are the best judge of what they can or cannot do. Don't make decisions for them about participating in any activity.
Persons with disabilities are individuals with families, jobs, hobbies, likes and dislikes, and problems and joys. While the disability is an integral part of who they are, it alone does not define them. Don't make them into disability heroes or victims. Treat them as individuals. It is well-known that every society is as strong as its members are. That is why do not take any decisions.
[*]The manual was prepared based on the publication by NGO «United Spinal Assosiation» (USA).